Hoe gaat het met de bouw van Amare? Bouwcombinatie Cadanz deelt welke activiteiten in maart worden uitgevoerd op de bouwplaats aan het Spuiplein.
Constructie
"De laatste steigers rondom Amare worden verwijderd, waardoor Amare met de stemvorkvormige zuilen compleet zichtbaar wordt. Op het dak worden de laatste zonnepanelen gemonteerd en in de patio's verschijnen de vlondervloeren en ook de sedum beplanting. Binnenkort worden testen uitgevoerd om de luchtkwaliteit te garanderen en verlichtingssterkte te controleren. Verder wordt deze maand het merendeel van de vloerbescherming uit het gebouw gehaald waardoor de schoonmaak volop kan beginnen."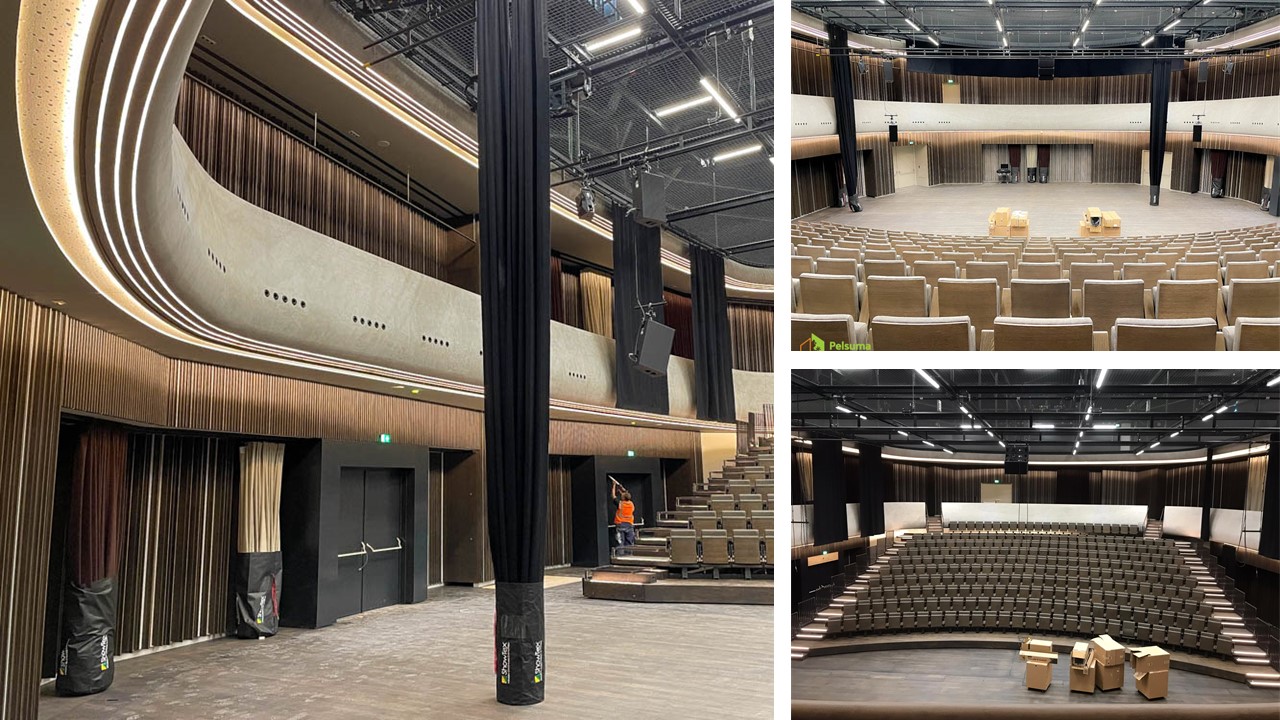 ©Bouwcombinatie Cadanz
Eigen sfeer
"Binnenin het gebouw dragen de zalen ieder al hun eigen sfeer uit. De Conservatoriumzaal bijvoorbeeld, deze zaal heeft een ruwe ongepolijste sfeer: eiken parket, wandbekleding van houten akoestische stroken en stucwerk met betonlook. De gordijnen, die ook de zijkanten van de zaal kunnen bedekken zijn antraciet grijs. De Conservatoriumzaal ligt op de vierde verdieping en heeft een eigen foyer. De zaal is ovaalvormig en zeer flexibel te gebruiken. Met of zonder tribune bijvoorbeeld, want die is inschuifbaar, alle ruimte biedt deze zaal dus.
Het Danstheater, de theaterzaal, is een van de parels van Amare. Deze zaal is voorzien van de allerlaatste technologieën waardoor memorabele voorstellingen en presentaties te geven zijn. Een deel van de stoelen bevindt zich op het balkon, wat een intieme sfeer geeft. Sfeerbepalend is ook de kleurstelling, die de ruimte een moderne en warme sfeer geeft."
Social return
"Tijdens de bouw heeft Bouwcombinatie Cadanz een bijdrage geleverd aan het verminderen van de werkloosheid in Den Haag. Dit hebben we gedaan door direct of indirect werkzoekenden terug in het werkproces te krijgen in de vorm van een baan of stageplek op het project Amare. We zijn blij dat we als Bouwcombinatie Cadanz een maatschappelijke meerwaarde hebben kunnen creëren via Social Return."