In action with Leontien Wiering
It was an eventful year for Zuiderstrandtheater and Amare. Business director Leontien Wiering offers us a peek behind the scenes. "We are embarking on a wholly new adventure together." A personal conversation about movement, inspiration and perseverance.
We only need to glance out the window to see it happening: where the office of Stichting Dans- en Muziekcentrum once looked out on Zuiderstrandtheater and the sea, the view is now partially obstructed by new residential complexes under construction. It's a clear sign that the time is approaching to take leave of the site on the former 'Norfolk grounds' at Zuiderstrand. The preparations for the relocations to Amare this summer are in full swing. It's the result of a dynamic year that business director Leontien Wiering is happy to tell us about.
Rolling train
Leontien Wiering joined Zuiderstrandtheater in September 2019. "It was really like jumping on a rolling train", she remembers. "Construction work on Amare was proceeding at full speed, and I soon started looking at how we could accelerate the train on this end." 
It wasn't a jump undertaken out of nowhere. Wiering brings a remarkable background to her job at Zuiderstrandtheater. She trained as a dancer at Codarts, and after some time on stage in Antwerp she decided to change track. "I was always one to organise things and to take the lead. I had come to realise that I wasn't going to reach the absolute top in the dance world. And I didn't necessarily need to be up on stage, but I did want to continue in the world of art and performance." So she went back to school, to study Art policy and Management. She found her first job as a producer at Korzo theatre in The Hague, and then developed further to fulfil management positions. She served as director of the Nederlandse Dansdagen, a festival dedicated to promoting Dutch dance in collaboration with NTR, both domestically and internationally. She also headed dance education programmes at the Amsterdam University of the Arts. Here she took the position of deputy director and subsequently director. 
After spending so much time in the field of art education and development, she started feeling restless. "At that point it occurred to me that I would actually like to manage a theatre. A building where you can welcome the public, and that is firmly planted in society." Wiering initially found such a position at Theater Het Klooster in Woerden and after that at Flint in Amersfoort. "And then I ended up here." 
Listening and looking 
Her role as business manager is diverse and challenging, she explains eagerly. "At Zuiderstrandtheater and Nieuwe Kerk we don't just programme the type of performance you can see in basically any theatre. We also have lots of remarkable productions and festivals and we deliberately aim to attract different target groups. This requires a lot of organisation. My job is to ensure that the people who run the operation are able to do so well: ticket office, theatre technicians, catering, business events, facilities management, finance. I manage everything that takes place behind the scenes. Which requires that I listen well, that I keep looking around, and that I remain in touch with everyone involved."
This brings her to her own drives. "Interaction is important to me. My questions are: how can you offer a warm and attractive venue, both for visitors and for performers? And how can you present performing arts to the public, while remaining accessible to all?" Wiering is able to benefit from her many and diverse experiences in the past. "The job I have now is really cut out for me. It combines so much of what I enjoy and care about."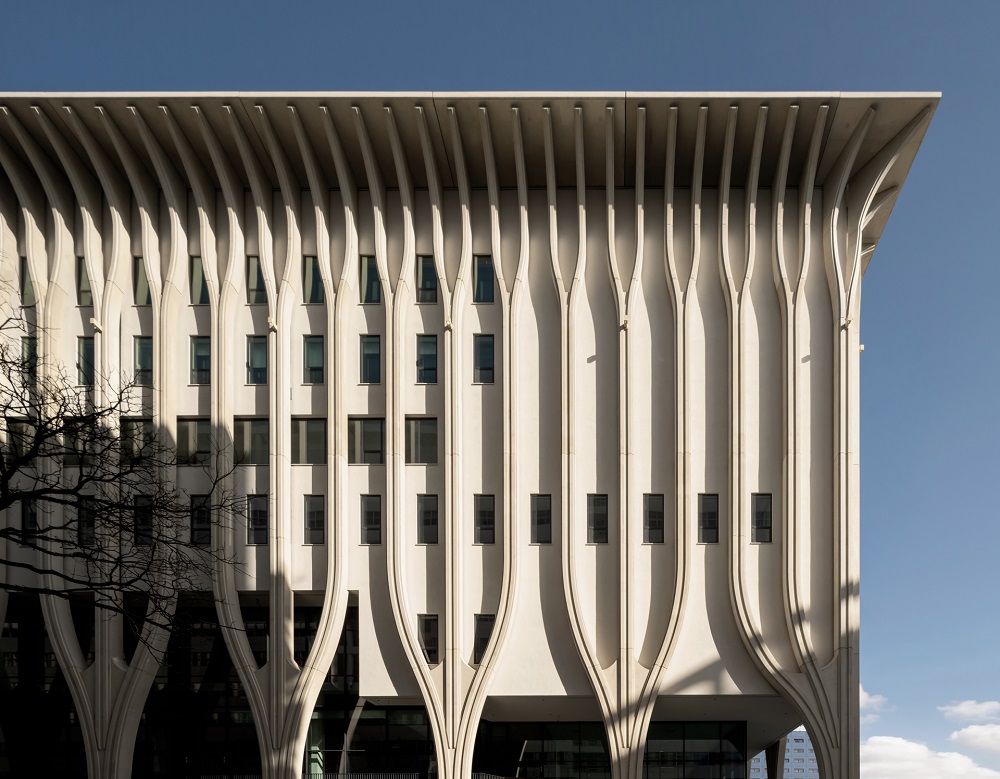 Amare will open its doors this autumn © Katja Effting
A new adventure
Her versatility is clearly an asset in the transition to Amare. "We are embarking on a wholly new adventure together," she says. "A new interior, starting a theatre restaurant, building up a new network: in a 'normal' job, these sorts of things are spread out over one or more years. We need to do all these things at the same time! Developing the building demands a lot from us, and then we also need to visualise our own organisation, our ideas, our vision and the mission, within this new space. It's a tall order." 
As an example she cites from her to-do list for today. "We are seeking a European party to do the building's interior. Amare will be handed over this summer in a fairly advanced state. All the halls are virtually finished, for example, with seats and all. But the public spaces still need a lot of finishing, from seats to curtains, bars, signs and lighting. Today we are publishing a tender for this interior work. It's an important choice that involves a lot of money."
Do such decisions ever keep her awake at night? "They certainly keep me occupied, but I don't necessarily worry about them," Wiering says. "I think that we're doing a very good job together. We really work as a team. So it's never the case that I wake up in the morning and make a decision. We do everything very thoroughly, we prepare everything carefully and lots of people are involved." But of course there are things that Wiering feels a bit tense about. "Especially how things will turn out to work in the end," she says. "We are all making decisions all the time. In terms of content, the interior, the processes, and so on. But we'll only know whether these things click together when the time is there. It could happen that we run into chaos and need to come up with solutions for problems we had not anticipated before. But all in all it's something I really enjoy doing."
Action inspired by dance
Her radiant eyes reveal how much her role is indeed cut out for her. Does something of her background in dance play a role in this, too? She takes a moment to reflect. "One thing that I might owe to my background in dance is the ability to act and react quickly. People often think that you need to have physical talent to be able to dance, but it's also about how quickly you can convert things into action. What do you see, and how do you translate this into movement. I can translate quickly, and I think that that's an asset in this job."
Besides that, her dance background inspires an overall proactive approach. "I do enjoy action", she explains. "In the end we simply need to make sure that we really take action. Of course I have extensive discussions with general director Jan Zoet and the team, and I think about things very carefully. But I am really one for taking concrete steps. I believe that movement always generates something new. Even if it's not clear yet, movement creates a new perspective, prompts a further step, stimulates someone else to make a move… I am also a real team player, which is also typical for dance. A dancer never stands alone, or rarely. Even solo performers need to collaborate, and in the end a show is produced by many people working together, with a shared energy."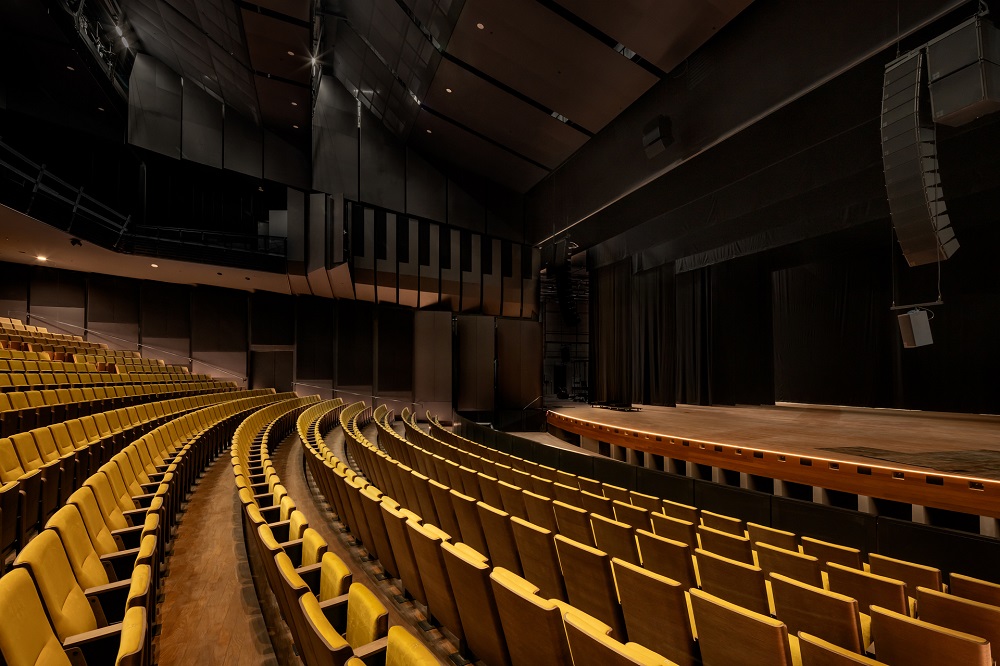 The Danstheater in Amare © Katja Effting
Shoulder to the wheel
Resolute action is certainly required in the process towards Amare, Wiering explains. "Everyone in the organisation is geared to action: in the theatre, behind the scenes, in front of the scenes – everyone is hugely concerned to get Amare up and running. I see how lots of people are really putting their shoulder to the wheel. It's wonderful to see." And she has some further compliments to give: "We are actually quite a small group. So if you look at all the responsibilities assigned to us, and what we need to arrange as the chief tenant and coordinator of this huge complex! I think that our success is due to how we really help and support each other, how we are really doing this together. And we are doing so with so much perseverance. We are all putting our shoulder to the wheel." 
A challenge of a very different sort forced the team to step out of its comfort zone this year, she continues. "Coronavirus was something that caught everyone by surprise. It required all of us to adjust in all sorts of ways. The pandemic forced us to continually pursue a kind of ad hoc policy. You constantly need to respond to developments, which also requires making all sorts of decisions. Do we open, do we remain shut, or do we open up just a bit? It was quite a challenging year in this respect. But we weren't just concerned about coronavirus, because we had Amare to work towards. Amare has been a giant dot on the horizon, giving us an inspiring perspective."
Impressive building
With so much nearing completion for Amare, Wiering can hardly wait to see the final result. "This building has really been designed with so much attention and dedication. The basic construction is robust, and the finishing is marvellous. The details, the materials, the colours in the halls: it's very impressive. I am really looking forward to making this building our own, and to truly make it our home. Right now it still feels as if we're just visitors."
So how will it be, after Amare opens this autumn? "I long to hear the music resound, to see the halls come alive, to sense the dancers' perspiration in the studios. I will probably attend every single show and performance in the first season. Even if only to feel it, to see it, to smell it all. To experience it all. And of course to look around to see whether everyone feels comfortable. Are there any points for improvement, however small? Of course the public will need to get used to the complex, too. We will all need to get used to it."
More than a theatre
And then there are the great expectations for Amare. "I so hope we'll manage to turn Amare into a place where people love to come. Amare is of course a theatre building and a conservatoire. It is a place where people create things for on stage and where students are trained to perform on stage. These are very important functions which I think will strongly appeal to many people. But I really hope that Amare will be more than only a theatre. That people also think, let me just pop in for a moment to see what's going on."
Amare must certainly be a prime venue for lovers of dance and music, says Wiering. "A place that many people see and experience as the place to go to for dance and music. I hope that we will be distinctive in that respect. That it becomes a place where things happen, where things are created." She already had a taste of that: "Recently I visited the dance studios. And really, once you enter there… I'm sure that every choreographer will absolutely love to create things there! With a wonderful view of The Hague, the city you're making it for. In that sense I hope we will be a place of inspiration, both in terms of programming and in terms of creation. A place that makes you think: 'this is where things happen that simply cannot happen anywhere else.'"
With tireless enthusiasm, Wiering continues: "Wouldn't that be great? And of course it's not just me who's dreaming these dreams. This is what all of us really want to see and what we are all striving so hard to achieve. And the wonderful thing is that we're almost at the point where we can actually start doing it!" 
Browse through the programme of Amare   Take a quick look around