2020 Ludwig van Beethoven
In 2020 we celebrated Ludwig van Beethoven's 250th birth year. Violinist Antje Weithaas, cellist Quirine Viersen and flautist Silvia Careddu performed this ground-breaking composer's music with great enthusiasm and contagious joy. The young members of Simply Quartet impressed the audience with their masterful play, and the wind soloists of Ensemble 4.1 (the festival's artists in residence) dazzled with their intimate chemistry.
Young talents
Like every year, the Februari Festival 2021 offered ample opportunities for young talents. This included a performance by the recently crowned winner of the Netherlands Violin Competition 2020, Coraline Groen (photo). The German violinist and instructor Antje Weithaas teamed up with a string section from the Royal Conservatoire, the wind soloists of Ensemble 4.1 and other musicians to take on the challenge of Beethoven's Fourth Symphony, resulting in a positively spellbinding performance.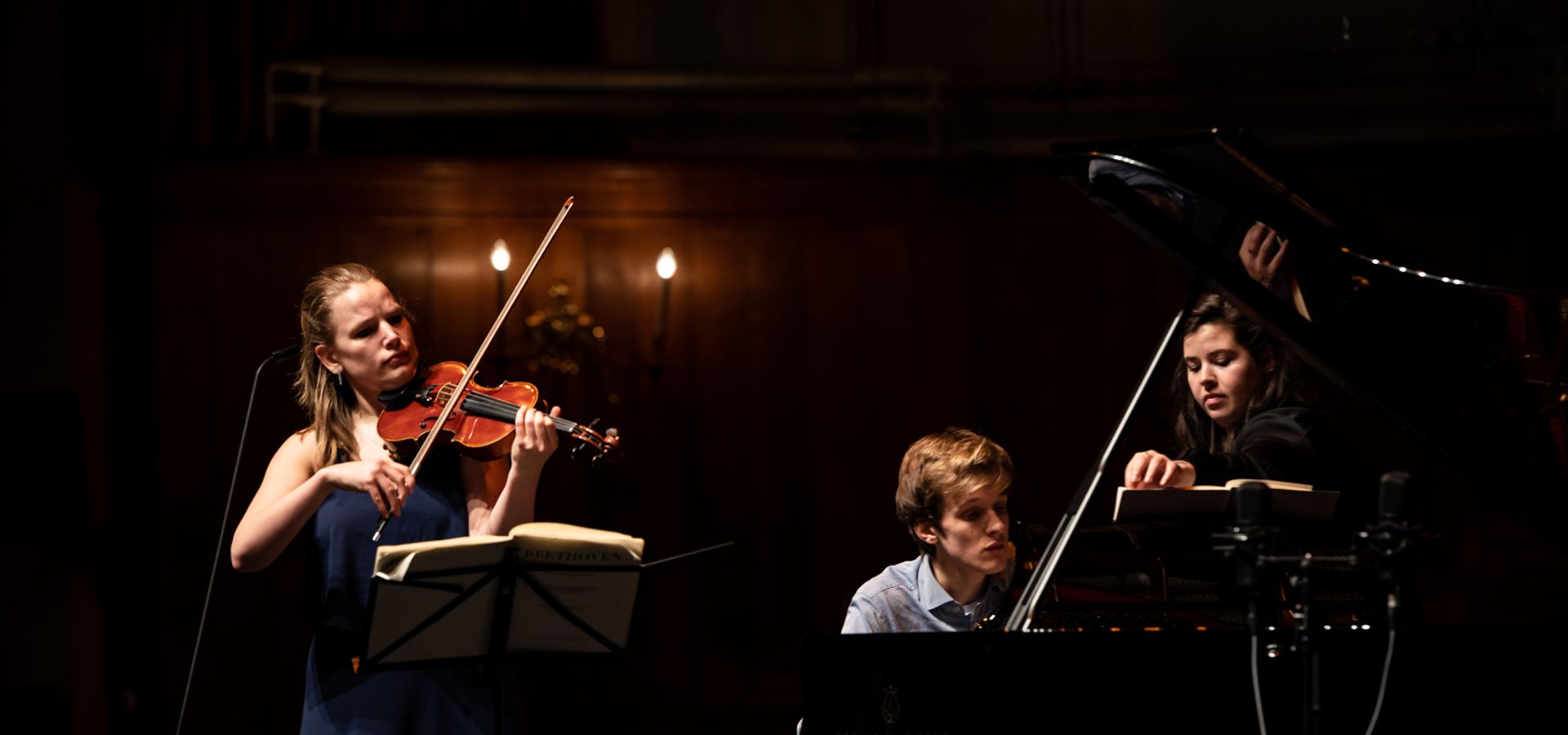 Adding perspective
Jan Cayers, musicologist and writer of a gripping biography of Beethoven, provided a prelude to the festival in the form of a spirited lecture. Musicologist and publicist Huib Ramaer hosted a musical course that addressed not only Beethoven's life and oeuvre, but also the way he was received in the Netherlands and, more specifically, in The Hague.
Unique festival ingredients
This edition of the festival was made all the more special by featuring multiple Dutch premieres of works by contemporary composers, such as Brett Dean, Uri Cain, Peter Stamm and Kurt Schwertsik. These compositions not only related to Beethoven's legacy, but also honoured him as a composer of unsurpassed brilliance.
Overview musicians & ensembles
Simply Quartet | Danfeng Shen | Antonia Rankersberger | Xiang Lyu | Ivan Valentin Hollup Roald | Ensemble 4.1 | Jörg Schneider | Alexander Glücksmann | Thomas Hoppe | Christoph Knitt | Fritz Pahlmann | Quirine Viersen | Pieter van Loenen | Nikola Meeuwsen | Alexander Warenberg | Ishay Shaer | Antje Weithaas | Aidan Mikdad | Hannah Strijbos | Peter Gijsbertsen | Jozef de Beenhouwer | Alon Sariel | Peter Nilsson | Stéphanie Desjardins | Elisa Karen Tavenier | Pieter de Koe | Tim Brackman | Nicky Schwartz | Silvia Careddu | Enrico Pace | Tobias Borsboom | Gideon den Herder | Pierre-Emmanuel de Maistre | Georgy Kovalev | Heleen Oomen | Carlos Cunhu | Eduardo Marques | Hendrik Marinus | Coraline Groen | Rik Kuppens | Matthias As
Beelden: © Tessa Veldhorst / De Schaapjesfabriek