Rewire announces full music line-up for 2023 edition
Rewire shares the full music line-up for its 12th edition, taking place from 6 to 9 April in the city centre of The Hague. Today's announcement includes many (world) premieres, commissioned projects and unique collaborations that reflect the aim of Rewire to platform and facilitate musical experimentation, exploration and innovation. Having previously announced Soundwalk Collective & Patti Smith, Kelela, Fever Ray, among many others, the music line-up of Rewire 2023 is now finalised with the addition of 58 new artists and projects.
New additions include world premieres by Alto Arc (Deafheaven's George Clarke, Danny L Harle, Hundred Waters's Trayer Tryon, and make-up artist Isamaya Ffrench), Tim Hecker & Vincent de Belleval, Peter Zummo & KAKUHAN, Matthew Herbert & Julian Sartorius, The Paper Ensemble & Ale Hop, Pavel Milyakov & Perila, upsammy & Jonathan Castro present Germ in a Population of Buildings, Wacław Zimpel & Ben Kreukniet present Train Spotter, and Maoupa Mazzocchetti with Luna Maria Cedrón & Samir Aouad present Heels of Joy. Another world premiere is an interdisciplinary performance by Aura Satz, Rhodri Davies & Julia Eckhardt, who are commissioned to present a new composition Occam Delta XX by Éliane Radigue, accompanied by a film by Aura Satz.
Other newly announced unique performances for Rewire 2023 include Daniel Blumberg presents GUT, Ellen Arkbro & Johan Graden, Amnesia Scanner & Freeka Tet present snaptrance.webcam, Ghosted (Oren Ambarchi, Johan Berthling, Andreas Werliin), Nadah El Shazly & Elvin Brandhi, EXPAT (Mykki Blanco & Samuel Acevedo), HTRK, Lucinda Chua, KAKUHAN, Hatis Noit, Infinity Knives & Brian Ennals, Deena Abdelwahed, TLF Trio, Ana Roxanne, Malibu, Afrorack, CS + Kreme, Dale Cornish, Pierce Warnecke & Matthew Biederman present Spillover, Zoh Amba, Slickback x Weirdcore present VOID, Grand River presents All Above, Tzusing, Martha Skye Murphy, Aleksandra Słyż presents A Vibrant Touch, Zoë Mc Pherson & Alessandra Leone present Pitch Blender, Dylan Henner, Enxin/Onyx, M. Takara & Carla Boregas, Bitter Babe b2b Manuka Honey, Safety Trance, Aquarian, Authentically Plastic, Pak Yan Lau presents Bakunawa, Youniss, Oscar Peters, Tatiana Koleva & Zhivko Vasilev, Elvin Brandhi, and Leslee Smucker presents Worlds Within.
In the coming weeks, more information will be announced about the free access opening night on Thursday April 6, and the extensive discourse programme of talks, workshops, and film screenings.
Discover the full music line-up via the flyer below and learn more about the individual artists
via rewirefestival.nl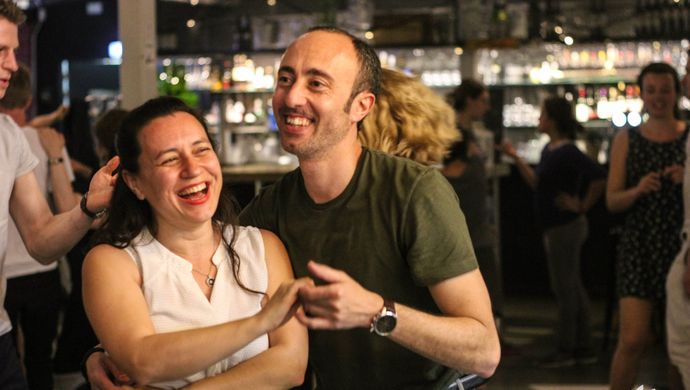 DJ's Lula and Rachel en live muziek van Hue Blanes' Hot Swing Five
Wed 11 Oct '23
-
Wed 12 Jun '24