Read more about the education programme.
The arrival of Little Amal is part of Wij Den Haag.
This project is made possible in part by: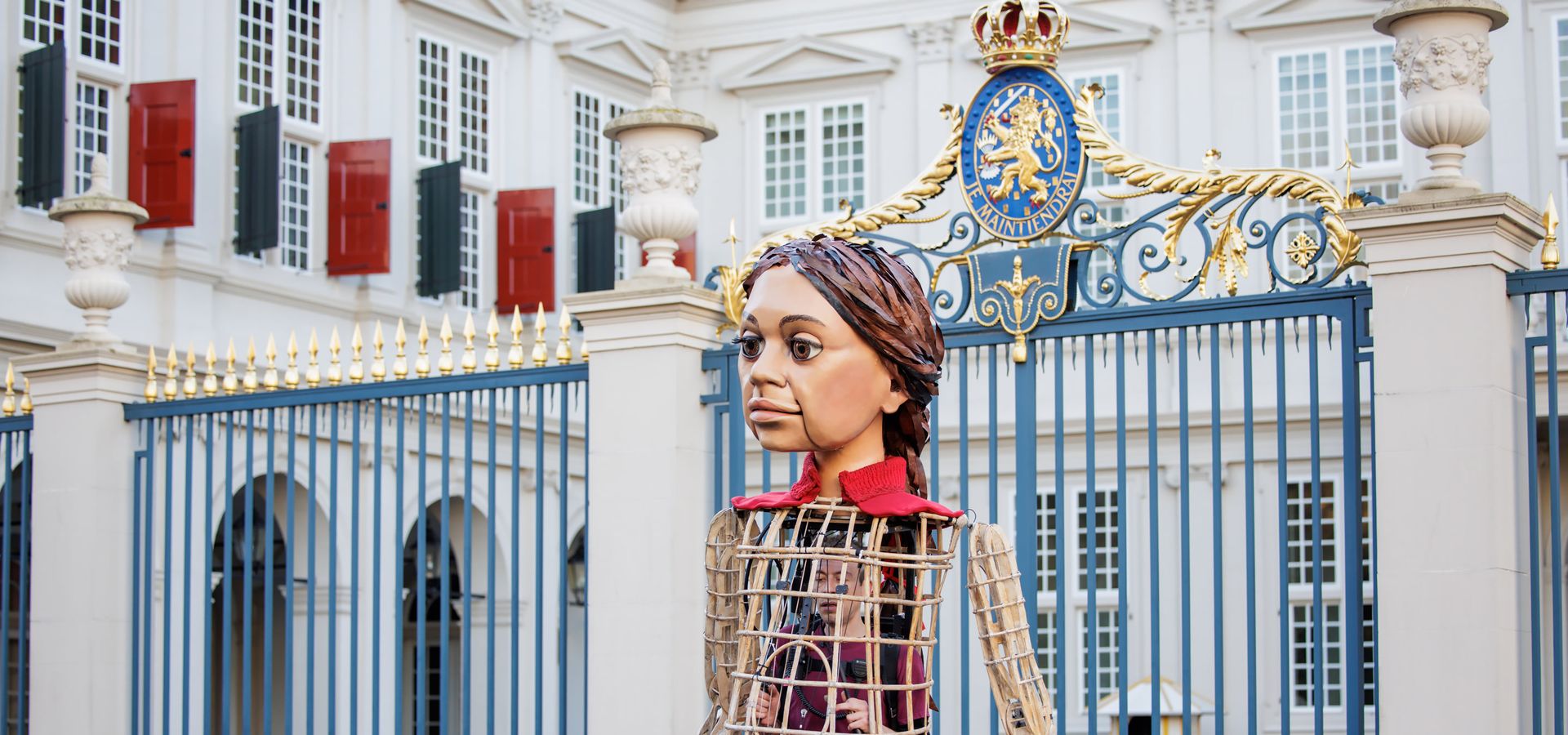 © Wouter Vellekoop
Little Amal was in The Hague!
She's only 10 years old and walked all the way from the Turkish/Syrian border to Europe. It was an 8,000-kilometre journey, and she was traveling alone, in search of her mother. Her name is Little Amal.
Little Amal is a giant puppet. Representing a refugee girl, she calls attention to the millions of homeless children around the world. Children who are fleeing war or violence with their families – or, like Little Amal, all alone. After an incredible journey, Amal has finally arrived in England in early November.
After that, Amare invited Amal to come visit The Hague, where she was welcomed as a special guest from 15 to 19 November 2021. During that week, she visited a number of important landmarks and locations in The Hague, like Madurodam, the Cultuurankers (Cultural Anchors), various schools and, of course, Amare.
The Walk
The Walk was a project by the Good Chance Theatre Company from England and the South African Handspring Puppet Company.
In charge of The Walk was Palestinian director Amir Nizar Zuabi. Little Amal's journey took her from Turkey to Greece, Italy, Switzerland, Germany, Belgium, France and the UK. Along the way, she told the stories of the refugee children whom she represents in more than 70 cities, where she was received with art, discussions and community projects.
Little Amal in The Hague
The Hague is the city of peace and justice, so after all it really belongs on the list of Little Amal's destinations. Amare invited Little Amal to visit The Hague from 15 to 21 November 2021.
The opening of Amare and Amal's stay in The Hague were under the direction of theatre maker Ira Judkovskaja, formerly the artistic director at Tryater. Little Amal met up with various organisations and communities in the city, who received her with workshops, discussions and exhibitions. An extensive educational programme was also developed for primary and secondary schools.
More about Little Amal
With her expressive gestures and dance, Little Amal creates encounters between people everywhere she goes. Her nonverbal, universal puppetry reaches out to people with very different backgrounds. Little Amal draws attention to migration and refugee issues, but is also a reminder of the connection and hope that art can create. We were very honoured to welcome her in Amare.
Little Amal was on a journey of more than 8000 kilometres through eight countries. To build a doll capable of coping with such a physical challenge, the Handspring Puppet Company used strong but lightweight materials, such as reeds and carbon. Little Amal is brought to life by four puppeteers: one controlling each arm, one supporting her back, and one on stilts inside her body. Watch the video below to see how they do it.